Connect with your social network account
Forum rules
Always add your Aimeos and PHP version as well as your environment (Linux/Mac/Win)
Spam and unrelated posts will be removed immediately!
I added a new page, /test, via the CMS, but when I visit it, I get the error 503 "No item found for conditions: Array." Additionally, the / URL of the store is referred to an empty page (with only a menu and footer) and ignores my existing page, which I updated through the CMS.
Site CMS :

Home page "/"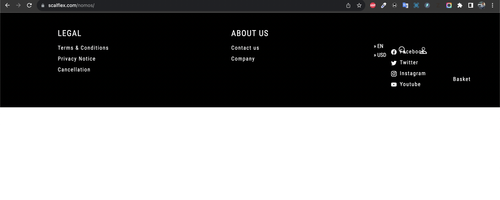 environment: Linux,ubuntu,nginx
PHP version: 8
.env `SHOP_MULTISHOP=1`
Error details :
Code: Select all
[2023-09-20 15:10:46] local.ERROR: No item found for conditions: Array
(
    [locale.site.code] => 502.html
)
 {"userId":2,"exception":"[object] (Aimeos\\MShop\\Exception(code: 404): No item found for conditions: Array
(
    [locale.site.code] => 502.html
)
 at PATH/vendor/aimeos/aimeos-core/src/MShop/Common/Manager/Base.php:511)
[stacktrace]
#0 PATH/vendor/aimeos/aimeos-core/src/MShop/Locale/Manager/Site/Standard.php(432): Aimeos\\MShop\\Common\\Manager\\Base->findBase()
#1 PATH/vendor/aimeos/aimeos-core/src/MShop/Common/Manager/Decorator/Base.php(153): Aimeos\\MShop\\Locale\\Manager\\Site\\Standard->find()
#2 PATH/vendor/aimeos/aimeos-core/src/MShop/Common/Manager/Decorator/Base.php(153): Aimeos\\MShop\\Common\\Manager\\Decorator\\Base->find()
#3 PATH/vendor/aimeos/aimeos-core/src/MShop/Locale/Manager/Standard.php(248): Aimeos\\MShop\\Common\\Manager\\Decorator\\Base->find()
#4 [internal function]: Aimeos\\MShop\\Locale\\Manager\\Standard->bootstrap()
#5 PATH/vendor/aimeos/aimeos-core/src/MShop/Common/Manager/Decorator/Base.php(51): call_user_func_array()
#6 [internal function]: Aimeos\\MShop\\Common\\Manager\\Decorator\\Base->__call()
#7 PATH/vendor/aimeos/aimeos-core/src/MShop/Common/Manager/Decorator/Base.php(51): call_user_func_array()
#8 PATH/vendor/aimeos/aimeos-laravel/src/Base/Locale.php(70): Aimeos\\MShop\\Common\\Manager\\Decorator\\Base->__call()
#9 PATH/vendor/aimeos/aimeos-laravel/src/Base/Context.php(101): Aimeos\\Shop\\Base\\Locale->get()
#10 PATH/vendor/aimeos/aimeos-laravel/src/Base/Shop.php(42): Aimeos\\Shop\\Base\\Context->get()
#11 PATH/vendor/aimeos/aimeos-laravel/src/ShopServiceProvider.php(109): Aimeos\\Shop\\Base\\Shop->__construct()
#12 PATH/vendor/laravel/framework/src/Illuminate/Container/Container.php(908): Aimeos\\Shop\\ShopServiceProvider->Aimeos\\Shop\\{closure}()
#13 PATH/vendor/laravel/framework/src/Illuminate/Container/Container.php(795): Illuminate\\Container\\Container->build()
#14 PATH/vendor/laravel/framework/src/Illuminate/Foundation/Application.php(937): Illuminate\\Container\\Container->resolve()
#15 PATH/vendor/laravel/framework/src/Illuminate/Container/Container.php(731): Illuminate\\Foundation\\Application->resolve()
#16 PATH/vendor/laravel/framework/src/Illuminate/Foundation/Application.php(922): Illuminate\\Container\\Container->make()
#17 PATH/vendor/laravel/framework/src/Illuminate/Container/Container.php(1454): Illuminate\\Foundation\\Application->make()
#18 PATH/vendor/laravel/framework/src/Illuminate/Support/Facades/Facade.php(236): Illuminate\\Container\\Container->offsetGet()
#19 PATH/vendor/laravel/framework/src/Illuminate/Support/Facades/Facade.php(207): Illuminate\\Support\\Facades\\Facade::resolveFacadeInstance()
#20 PATH/vendor/laravel/framework/src/Illuminate/Support/Facades/Facade.php(347): Illuminate\\Support\\Facades\\Facade::getFacadeRoot()
#21 PATH/vendor/aimeos/aimeos-laravel/src/Controller/CatalogController.php(81): Illuminate\\Support\\Facades\\Facade::__callStatic()
#22 PATH/vendor/laravel/framework/src/Illuminate/Routing/Controller.php(54): Aimeos\\Shop\\Controller\\CatalogController->homeAction()
#23 PATH/vendor/laravel/framework/src/Illuminate/Routing/ControllerDispatcher.php(43): Illuminate\\Routing\\Controller->callAction()
#24 PATH/vendor/laravel/framework/src/Illuminate/Routing/Route.php(260): Illuminate\\Routing\\ControllerDispatcher->dispatch()
#25 PATH/vendor/laravel/framework/src/Illuminate/Routing/Route.php(205): Illuminate\\Routing\\Route->runController()
#26 PATH/vendor/laravel/framework/src/Illuminate/Routing/Router.php(799): Illuminate\\Routing\\Route->run()
#27 PATH/vendor/laravel/framework/src/Illuminate/Pipeline/Pipeline.php(141): Illuminate\\Routing\\Router->Illuminate\\Routing\\{closure}()
#28 PATH/vendor/laravel/framework/src/Illuminate/Routing/Middleware/SubstituteBindings.php(50): Illuminate\\Pipeline\\Pipeline->Illuminate\\Pipeline\\{closure}()
#29 PATH/vendor/laravel/framework/src/Illuminate/Pipeline/Pipeline.php(180): Illuminate\\Routing\\Middleware\\SubstituteBindings->handle()
#30 PATH/vendor/laravel/framework/src/Illuminate/Foundation/Http/Middleware/VerifyCsrfToken.php(78): Illuminate\\Pipeline\\Pipeline->Illuminate\\Pipeline\\{closure}()
#31 PATH/vendor/laravel/framework/src/Illuminate/Pipeline/Pipeline.php(180): Illuminate\\Foundation\\Http\\Middleware\\VerifyCsrfToken->handle()
#32 PATH/vendor/laravel/framework/src/Illuminate/View/Middleware/ShareErrorsFromSession.php(49): Illuminate\\Pipeline\\Pipeline->Illuminate\\Pipeline\\{closure}()
#33 PATH/vendor/laravel/framework/src/Illuminate/Pipeline/Pipeline.php(180): Illuminate\\View\\Middleware\\ShareErrorsFromSession->handle()
#34 PATH/vendor/laravel/framework/src/Illuminate/Session/Middleware/StartSession.php(121): Illuminate\\Pipeline\\Pipeline->Illuminate\\Pipeline\\{closure}()
#35 PATH/vendor/laravel/framework/src/Illuminate/Session/Middleware/StartSession.php(64): Illuminate\\Session\\Middleware\\StartSession->handleStatefulRequest()
#36 PATH/vendor/laravel/framework/src/Illuminate/Pipeline/Pipeline.php(180): Illuminate\\Session\\Middleware\\StartSession->handle()
#37 PATH/vendor/laravel/framework/src/Illuminate/Cookie/Middleware/AddQueuedCookiesToResponse.php(37): Illuminate\\Pipeline\\Pipeline->Illuminate\\Pipeline\\{closure}()
#38 PATH/vendor/laravel/framework/src/Illuminate/Pipeline/Pipeline.php(180): Illuminate\\Cookie\\Middleware\\AddQueuedCookiesToResponse->handle()
#39 PATH/vendor/laravel/framework/src/Illuminate/Cookie/Middleware/EncryptCookies.php(67): Illuminate\\Pipeline\\Pipeline->Illuminate\\Pipeline\\{closure}()
#40 PATH/vendor/laravel/framework/src/Illuminate/Pipeline/Pipeline.php(180): Illuminate\\Cookie\\Middleware\\EncryptCookies->handle()
#41 PATH/vendor/laravel/framework/src/Illuminate/Pipeline/Pipeline.php(116): Illuminate\\Pipeline\\Pipeline->Illuminate\\Pipeline\\{closure}()
#42 PATH/vendor/laravel/framework/src/Illuminate/Routing/Router.php(800): Illuminate\\Pipeline\\Pipeline->then()
#43 PATH/vendor/laravel/framework/src/Illuminate/Routing/Router.php(777): Illuminate\\Routing\\Router->runRouteWithinStack()
#44 PATH/vendor/laravel/framework/src/Illuminate/Routing/Router.php(741): Illuminate\\Routing\\Router->runRoute()
#45 PATH/vendor/laravel/framework/src/Illuminate/Routing/Router.php(730): Illuminate\\Routing\\Router->dispatchToRoute()
#46 PATH/vendor/laravel/framework/src/Illuminate/Foundation/Http/Kernel.php(200): Illuminate\\Routing\\Router->dispatch()
#47 PATH/vendor/laravel/framework/src/Illuminate/Pipeline/Pipeline.php(141): Illuminate\\Foundation\\Http\\Kernel->Illuminate\\Foundation\\Http\\{closure}()
#48 PATH/app/Http/Middleware/SetLocale.php(25): Illuminate\\Pipeline\\Pipeline->Illuminate\\Pipeline\\{closure}()
#49 PATH/vendor/laravel/framework/src/Illuminate/Pipeline/Pipeline.php(180): App\\Http\\Middleware\\SetLocale->handle()
#50 PATH/vendor/laravel/framework/src/Illuminate/Foundation/Http/Middleware/TransformsRequest.php(21): Illuminate\\Pipeline\\Pipeline->Illuminate\\Pipeline\\{closure}()
#51 PATH/vendor/laravel/framework/src/Illuminate/Foundation/Http/Middleware/ConvertEmptyStringsToNull.php(31): Illuminate\\Foundation\\Http\\Middleware\\TransformsRequest->handle()
#52 PATH/vendor/laravel/framework/src/Illuminate/Pipeline/Pipeline.php(180): Illuminate\\Foundation\\Http\\Middleware\\ConvertEmptyStringsToNull->handle()
#53 PATH/vendor/laravel/framework/src/Illuminate/Foundation/Http/Middleware/TransformsRequest.php(21): Illuminate\\Pipeline\\Pipeline->Illuminate\\Pipeline\\{closure}()
#54 PATH/vendor/laravel/framework/src/Illuminate/Foundation/Http/Middleware/TrimStrings.php(40): Illuminate\\Foundation\\Http\\Middleware\\TransformsRequest->handle()
#55 PATH/vendor/laravel/framework/src/Illuminate/Pipeline/Pipeline.php(180): Illuminate\\Foundation\\Http\\Middleware\\TrimStrings->handle()
#56 PATH/vendor/laravel/framework/src/Illuminate/Foundation/Http/Middleware/ValidatePostSize.php(27): Illuminate\\Pipeline\\Pipeline->Illuminate\\Pipeline\\{closure}()
#57 PATH/vendor/laravel/framework/src/Illuminate/Pipeline/Pipeline.php(180): Illuminate\\Foundation\\Http\\Middleware\\ValidatePostSize->handle()
#58 PATH/vendor/laravel/framework/src/Illuminate/Foundation/Http/Middleware/PreventRequestsDuringMaintenance.php(89): Illuminate\\Pipeline\\Pipeline->Illuminate\\Pipeline\\{closure}()
#59 PATH/vendor/laravel/framework/src/Illuminate/Pipeline/Pipeline.php(180): Illuminate\\Foundation\\Http\\Middleware\\PreventRequestsDuringMaintenance->handle()
#60 PATH/vendor/laravel/framework/src/Illuminate/Http/Middleware/HandleCors.php(49): Illuminate\\Pipeline\\Pipeline->Illuminate\\Pipeline\\{closure}()
#61 PATH/vendor/laravel/framework/src/Illuminate/Pipeline/Pipeline.php(180): Illuminate\\Http\\Middleware\\HandleCors->handle()
#62 PATH/vendor/laravel/framework/src/Illuminate/Http/Middleware/TrustProxies.php(39): Illuminate\\Pipeline\\Pipeline->Illuminate\\Pipeline\\{closure}()
#63 PATH/vendor/laravel/framework/src/Illuminate/Pipeline/Pipeline.php(180): Illuminate\\Http\\Middleware\\TrustProxies->handle()
#64 PATH/app/Http/Middleware/TrustHosts.php(24): Illuminate\\Pipeline\\Pipeline->Illuminate\\Pipeline\\{closure}()
#65 PATH/vendor/laravel/framework/src/Illuminate/Pipeline/Pipeline.php(180): App\\Http\\Middleware\\TrustHosts->handle()
#66 PATH/vendor/laravel/framework/src/Illuminate/Pipeline/Pipeline.php(116): Illuminate\\Pipeline\\Pipeline->Illuminate\\Pipeline\\{closure}()
#67 PATH/vendor/laravel/framework/src/Illuminate/Foundation/Http/Kernel.php(175): Illuminate\\Pipeline\\Pipeline->then()
#68 PATH/vendor/laravel/framework/src/Illuminate/Foundation/Http/Kernel.php(144): Illuminate\\Foundation\\Http\\Kernel->sendRequestThroughRouter()
#69 PATH/public/index.php(52): Illuminate\\Foundation\\Http\\Kernel->handle()
#70 PATH/vendor/laravel/framework/src/Illuminate/Foundation/resources/server.php(16): require_once('...')
#71 {main}
"} 

(
    [locale.site.code] => 502.html
)
 {"userId":2,"exception":"[object] (Aimeos\MShop\Exception(code: 404): No item found for conditions: Array
(
    [locale.site.code] => 502.html
)
 at PATH/vendor/aimeos/aimeos-core/src/MShop/Common/Manager/Base.php:511)
[stacktrace]
#0 PATH/vendor/aimeos/aimeos-core/src/MShop/Locale/Manager/Site/Standard.php(432): Aimeos\MShop\Common\Manager\Base->findBase()
#1 PATH/vendor/aimeos/aimeos-core/src/MShop/Common/Manager/Decorator/Base.php(153): Aimeos\MShop\Locale\Manager\Site\Standard->find()
#2 PATH/vendor/aimeos/aimeos-core/src/MShop/Common/Manager/Decorator/Base.php(153): Aimeos\MShop\Common\Manager\Decorator\Base->find()
#3 PATH/vendor/aimeos/aimeos-core/src/MShop/Locale/Manager/Standard.php(248): Aimeos\MShop\Common\Manager\Decorator\Base->find()
#4 [internal function]: Aimeos\MShop\Locale\Manager\Standard->bootstrap()
#5 PATH/vendor/aimeos/aimeos-core/src/MShop/Common/Manager/Decorator/Base.php(51): call_user_func_array()
#6 [internal function]: Aimeos\MShop\Common\Manager\Decorator\Base->__call()
#7 PATH/vendor/aimeos/aimeos-core/src/MShop/Common/Manager/Decorator/Base.php(51): call_user_func_array()
#8 PATH/vendor/aimeos/aimeos-laravel/src/Base/Locale.php(70): Aimeos\MShop\Common\Manager\Decorator\Base->__call()
#9 PATH/vendor/aimeos/aimeos-laravel/src/Base/Context.php(101): Aimeos\Shop\Base\Locale->get()
#10 PATH/vendor/aimeos/aimeos-laravel/src/Base/Shop.php(42): Aimeos\Shop\Base\Context->get()
#11 PATH/vendor/aimeos/aimeos-laravel/src/ShopServiceProvider.php(109): Aimeos\Shop\Base\Shop->__construct()
#12 PATH/vendor/laravel/framework/src/Illuminate/Container/Container.php(908): Aimeos\Shop\ShopServiceProvider->Aimeos\Shop\{closure}()
#13 PATH/vendor/laravel/framework/src/Illuminate/Container/Container.php(795): Illuminate\Container\Container->build()
#14 PATH/vendor/laravel/framework/src/Illuminate/Foundation/Application.php(937): Illuminate\Container\Container->resolve()
#15 PATH/vendor/laravel/framework/src/Illuminate/Container/Container.php(731): Illuminate\Foundation\Application->resolve()
#16 PATH/vendor/laravel/framework/src/Illuminate/Foundation/Application.php(922): Illuminate\Container\Container->make()
#17 PATH/vendor/laravel/framework/src/Illuminate/Container/Container.php(1454): Illuminate\Foundation\Application->make()
#18 PATH/vendor/laravel/framework/src/Illuminate/Support/Facades/Facade.php(236): Illuminate\Container\Container->offsetGet()
#19 PATH/vendor/laravel/framework/src/Illuminate/Support/Facades/Facade.php(207): Illuminate\Support\Facades\Facade::resolveFacadeInstance()
#20 PATH/vendor/laravel/framework/src/Illuminate/Support/Facades/Facade.php(347): Illuminate\Support\Facades\Facade::getFacadeRoot()
#21 PATH/vendor/aimeos/aimeos-laravel/src/Controller/CatalogController.php(81): Illuminate\Support\Facades\Facade::__callStatic()
#22 PATH/vendor/laravel/framework/src/Illuminate/Routing/Controller.php(54): Aimeos\Shop\Controller\CatalogController->homeAction()
#23 PATH/vendor/laravel/framework/src/Illuminate/Routing/ControllerDispatcher.php(43): Illuminate\Routing\Controller->callAction()
#24 PATH/vendor/laravel/framework/src/Illuminate/Routing/Route.php(260): Illuminate\Routing\ControllerDispatcher->dispatch()
#25 PATH/vendor/laravel/framework/src/Illuminate/Routing/Route.php(205): Illuminate\Routing\Route->runController()
#26 PATH/vendor/laravel/framework/src/Illuminate/Routing/Router.php(799): Illuminate\Routing\Route->run()
#27 PATH/vendor/laravel/framework/src/Illuminate/Pipeline/Pipeline.php(141): Illuminate\Routing\Router->Illuminate\Routing\{closure}()
#28 PATH/vendor/laravel/framework/src/Illuminate/Routing/Middleware/SubstituteBindings.php(50): Illuminate\Pipeline\Pipeline->Illuminate\Pipeline\{closure}()
#29 PATH/vendor/laravel/framework/src/Illuminate/Pipeline/Pipeline.php(180): Illuminate\Routing\Middleware\SubstituteBindings->handle()
#30 PATH/vendor/laravel/framework/src/Illuminate/Foundation/Http/Middleware/VerifyCsrfToken.php(78): Illuminate\Pipeline\Pipeline->Illuminate\Pipeline\{closure}()
#31 PATH/vendor/laravel/framework/src/Illuminate/Pipeline/Pipeline.php(180): Illuminate\Foundation\Http\Middleware\VerifyCsrfToken->handle()
#32 PATH/vendor/laravel/framework/src/Illuminate/View/Middleware/ShareErrorsFromSession.php(49): Illuminate\Pipeline\Pipeline->Illuminate\Pipeline\{closure}()
#33 PATH/vendor/laravel/framework/src/Illuminate/Pipeline/Pipeline.php(180): Illuminate\View\Middleware\ShareErrorsFromSession->handle()
#34 PATH/vendor/laravel/framework/src/Illuminate/Session/Middleware/StartSession.php(121): Illuminate\Pipeline\Pipeline->Illuminate\Pipeline\{closure}()
#35 PATH/vendor/laravel/framework/src/Illuminate/Session/Middleware/StartSession.php(64): Illuminate\Session\Middleware\StartSession->handleStatefulRequest()
#36 PATH/vendor/laravel/framework/src/Illuminate/Pipeline/Pipeline.php(180): Illuminate\Session\Middleware\StartSession->handle()
#37 PATH/vendor/laravel/framework/src/Illuminate/Cookie/Middleware/AddQueuedCookiesToResponse.php(37): Illuminate\Pipeline\Pipeline->Illuminate\Pipeline\{closure}()
#38 PATH/vendor/laravel/framework/src/Illuminate/Pipeline/Pipeline.php(180): Illuminate\Cookie\Middleware\AddQueuedCookiesToResponse->handle()
#39 PATH/vendor/laravel/framework/src/Illuminate/Cookie/Middleware/EncryptCookies.php(67): Illuminate\Pipeline\Pipeline->Illuminate\Pipeline\{closure}()
#40 PATH/vendor/laravel/framework/src/Illuminate/Pipeline/Pipeline.php(180): Illuminate\Cookie\Middleware\EncryptCookies->handle()
#41 PATH/vendor/laravel/framework/src/Illuminate/Pipeline/Pipeline.php(116): Illuminate\Pipeline\Pipeline->Illuminate\Pipeline\{closure}()
#42 PATH/vendor/laravel/framework/src/Illuminate/Routing/Router.php(800): Illuminate\Pipeline\Pipeline->then()
#43 PATH/vendor/laravel/framework/src/Illuminate/Routing/Router.php(777): Illuminate\Routing\Router->runRouteWithinStack()
#44 PATH/vendor/laravel/framework/src/Illuminate/Routing/Router.php(741): Illuminate\Routing\Router->runRoute()
#45 PATH/vendor/laravel/framework/src/Illuminate/Routing/Router.php(730): Illuminate\Routing\Router->dispatchToRoute()
#46 PATH/vendor/laravel/framework/src/Illuminate/Foundation/Http/Kernel.php(200): Illuminate\Routing\Router->dispatch()
#47 PATH/vendor/laravel/framework/src/Illuminate/Pipeline/Pipeline.php(141): Illuminate\Foundation\Http\Kernel->Illuminate\Foundation\Http\{closure}()
#48 PATH/app/Http/Middleware/SetLocale.php(25): Illuminate\Pipeline\Pipeline->Illuminate\Pipeline\{closure}()
#49 PATH/vendor/laravel/framework/src/Illuminate/Pipeline/Pipeline.php(180): App\Http\Middleware\SetLocale->handle()
#50 PATH/vendor/laravel/framework/src/Illuminate/Foundation/Http/Middleware/TransformsRequest.php(21): Illuminate\Pipeline\Pipeline->Illuminate\Pipeline\{closure}()
#51 PATH/vendor/laravel/framework/src/Illuminate/Foundation/Http/Middleware/ConvertEmptyStringsToNull.php(31): Illuminate\Foundation\Http\Middleware\TransformsRequest->handle()
#52 PATH/vendor/laravel/framework/src/Illuminate/Pipeline/Pipeline.php(180): Illuminate\Foundation\Http\Middleware\ConvertEmptyStringsToNull->handle()
#53 PATH/vendor/laravel/framework/src/Illuminate/Foundation/Http/Middleware/TransformsRequest.php(21): Illuminate\Pipeline\Pipeline->Illuminate\Pipeline\{closure}()
#54 PATH/vendor/laravel/framework/src/Illuminate/Foundation/Http/Middleware/TrimStrings.php(40): Illuminate\Foundation\Http\Middleware\TransformsRequest->handle()
#55 PATH/vendor/laravel/framework/src/Illuminate/Pipeline/Pipeline.php(180): Illuminate\Foundation\Http\Middleware\TrimStrings->handle()
#56 PATH/vendor/laravel/framework/src/Illuminate/Foundation/Http/Middleware/ValidatePostSize.php(27): Illuminate\Pipeline\Pipeline->Illuminate\Pipeline\{closure}()
#57 PATH/vendor/laravel/framework/src/Illuminate/Pipeline/Pipeline.php(180): Illuminate\Foundation\Http\Middleware\ValidatePostSize->handle()
#58 PATH/vendor/laravel/framework/src/Illuminate/Foundation/Http/Middleware/PreventRequestsDuringMaintenance.php(89): Illuminate\Pipeline\Pipeline->Illuminate\Pipeline\{closure}()
#59 PATH/vendor/laravel/framework/src/Illuminate/Pipeline/Pipeline.php(180): Illuminate\Foundation\Http\Middleware\PreventRequestsDuringMaintenance->handle()
#60 PATH/vendor/laravel/framework/src/Illuminate/Http/Middleware/HandleCors.php(49): Illuminate\Pipeline\Pipeline->Illuminate\Pipeline\{closure}()
#61 PATH/vendor/laravel/framework/src/Illuminate/Pipeline/Pipeline.php(180): Illuminate\Http\Middleware\HandleCors->handle()
#62 PATH/vendor/laravel/framework/src/Illuminate/Http/Middleware/TrustProxies.php(39): Illuminate\Pipeline\Pipeline->Illuminate\Pipeline\{closure}()
#63 PATH/vendor/laravel/framework/src/Illuminate/Pipeline/Pipeline.php(180): Illuminate\Http\Middleware\TrustProxies->handle()
#64 PATH/app/Http/Middleware/TrustHosts.php(24): Illuminate\Pipeline\Pipeline->Illuminate\Pipeline\{closure}()
#65 PATH/vendor/laravel/framework/src/Illuminate/Pipeline/Pipeline.php(180): App\Http\Middleware\TrustHosts->handle()
#66 PATH/vendor/laravel/framework/src/Illuminate/Pipeline/Pipeline.php(116): Illuminate\Pipeline\Pipeline->Illuminate\Pipeline\{closure}()
#67 PATH/vendor/laravel/framework/src/Illuminate/Foundation/Http/Kernel.php(175): Illuminate\Pipeline\Pipeline->then()
#68 PATH/vendor/laravel/framework/src/Illuminate/Foundation/Http/Kernel.php(144): Illuminate\Foundation\Http\Kernel->sendRequestThroughRouter()
#69 PATH/public/index.php(52): Illuminate\Foundation\Http\Kernel->handle()
#70 PATH/vendor/laravel/framework/src/Illuminate/Foundation/resources/server.php(16): require_once('...')
#71 {main}
"} 

---
Resolved by following introduction
https://aimeos.org/docs/latest/laravel/ ... iple-shops
+
https://github.com/aimeos/aimeos-docs/c ... cs:patch-2
---