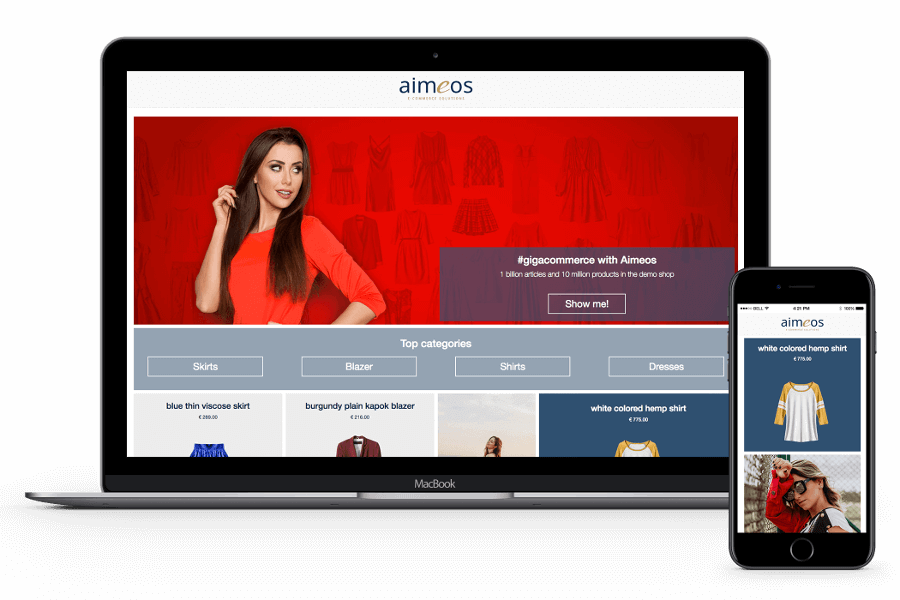 Try the Symfony shop bundle
Professional, full-featured e-commerce bundle
For your Symfony online shop application
Highly customizable to your requirements
Optimized response time down to 20ms
Advantages of Aimeos

Full-featured Symfony e-commerce bundle
It contains everything you need to create your new online shop including product catalogs, baskets, checkout, payment, order management and e-mails.

Faster than your customers expect
In optimized server setups, response times down to 100ms are possible when browsing the product catalog. This results in pleased customers and more sales.

Free and Open Source software
Use Aimeos free of charge, modify it according to your needs and use the code base for all your e-commerce projects without licensing headaches.

Complete setup in 5 minutes only
The Symfony e-commerce bundle is installed in less than five minutes and includes a set of demo data which creates a fully working online shop instantly.

Best suited for mobile customers
Aimeos is designed from ground up for mobile devices and the content is optimally displayed on every smartphone or tablet which has at least 320px.

Extremely customizable components
Over 2500 configuration options allow you to customize every aspect to your needs and the best thing is: You only need two settings for the start!

Scales in shops and products
Aimeos grows with your business up to 100k+ products and hundreds of shops per installation out of the box. It can handle several million products using extensions.

Optimized user experience
Perfect usability is the key for every successful online shop. Constant usability testing ensures that customers will love your shop and enjoy to come back.

Excellent code quality testified
Over 180 000 lines of code are constantly checked for quality and clean code. Thereby, new developers are able to dig into and understand the code quickly.

Benefit from a fully SEO optimized shop
Increase the number of customers visiting your shop. Aimeos comes fully SEO optimized out of the box and you can add content for any SEO relevant information.

Available in more than 15 languages
Make business world-wide with your e-commerce web site. Aimeos is perfectly adapted to the language and local characteristics of your customers.

Extensively tested code base
The source code is covered by more than 6000 test cases including 17500+ tests. Aimeos is among the most tested e-commerce systems on the market.

For more than just online shops
Through its unlimited extensibility, Aimeos is a perfect choice for everything that is organized in lists and detail view, e.g. real estate portals, reservation systems, etc.

Powerful theming capabilities
Clean and structural HTML in combination with sophisticated CSS3 creates appealing high quality themes installed with layouts and configuration in one simple package.

Well documented source code
The code base contains more than 130 000 lines of comments. For that reason it's one of the best documented code base available for Symfony.

Industry standard techniques
Proven technologies used by the Symfony community allow a large pool of developers to jump into any Aimeos project quickly and get productive within days.

Get help for your problems
If you can't find the answer to your question somewhere, ask the Aimeos community to solve your problem within a short amount of time.